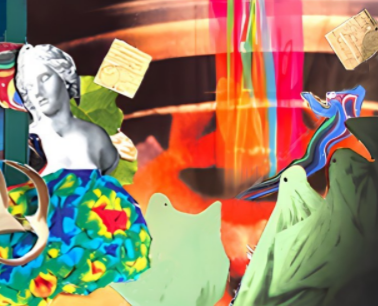 As always, the process of curating this year's Umbra started with us looking through each submission and choosing the pieces that clearly represented the Creative Writing department through quality, craft, and thoughtfulness. This issue equally represents all four levels through poetry, fiction, and creative nonfiction.
For the first time, we've added a podcast, Unreliable Narrators, to this year's issue. Led by Anya Groner, the Creative Writing's Podcasting class have explored the art of interviews, research, and podcasting by meeting and talking with local writers around the city.
In addition to our work, we'd like to shine a light on Creative Writing Alumna Jensen Holliday (2022) who passed away in November of last year. We're honoring Jensen's creative talent and ambition by publishing a collection of her work from her time at NOCCA, as well as a tribute written and introduced by NOCCA students, Julia Sholl, Elizabeth Northup, and Ruby Whitaker.
Returning for the second time, we'd like to introduce Amélie Gowland, our first art director for the magazine. Amélie is a Level IV student in Visual Art. She created the overall look, the cover banner, and curated the digital artwork of Level III Visual Arts students that we then matched with each piece of writing. We're once again grateful for her contributions and willingness to work with us.
This issue yet again explores new perspectives by looking dually to the past and future. As always, we appreciate the continued support with each new edition. Here's to the spring issue of Umbra!
Sincerely,
The Umbra Editors