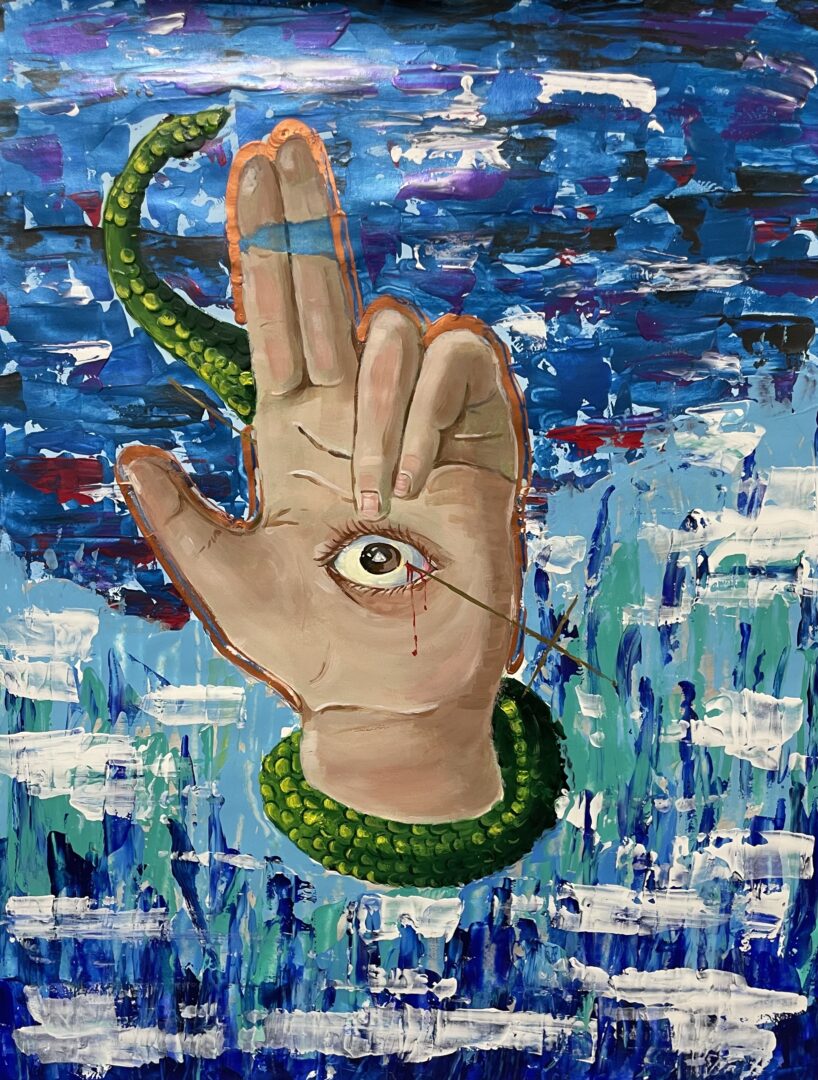 I Burned
       1.       Joan is Burned for the First Time

I don't struggle when they bind me to my promised
land. The rope bites fire into my neck and chest
without a flame. They strike a light. Ants crawl underneath my nails, between
my teeth, inside my nose. The glowing insects alight
on my dress and chew little holes through the fabric. Burns dribble from my palms
and splatter like wax on my feet. Blood leaks into my cheeks,
a soft blush of panic. My face porcelainizes into an elegant
portrait smile, eyes raised, a gleam of tears to hide a whimper. They
spit on my desperate stab at composure so I
take a deep breath, choke on the embers, and burst into
song. I sing His name as a wooden cross flickers in the darkness of the raging flames
and I sing until the flickering is snuffed.

       2.       Joan Burns for the Second Time
	
                My body is a scarecrow meant to scare away
                The Saints. A charred mess of mangled
                Nineteen-year-old flesh tethered to a stick
                Is a sacred thing. Afraid of relic-collecting
                Rebels, the priests inspect me, ensure I'm dead. Reassured,
                They turn to my God and pray about what to do next.
                They return to say He believes I was only half-cooked
                And to extinguish any germs of blasphemous religious
                Ideas with a blowtorch.

       3.       Joan is Burnt for the Third Time

                                I am dead so they cry
		                'Burn her.' They don't want a martyr
		                and they possess my body
		                so they erase my sway
		                by keeping my soul away from
		                my skin. God asked politely,
		                many years ago, if we minded
		                not burning our dead. It would be easier,
		                He said, to put us back together
		                if it was all kept neatly in one spot and not scattered
		                in the wind. So the bishops mixed my powdered bones
		                into the Seine, hoping I would churn eternally
		                in the ceaseless cry of the weeping
                                spirits they said possessed my body.

---
Gens Propagand'armes
 Chère Maman, they say that while
Joan of Arc saved France                                     LES ASSASSINS REVIENNENT
I took garden clippers and lopped my hair off.
My banner wept in the wind, sunrise above the smoke.
            On marchent au flames		           behind the stained glass
WOMEN OF BRITAIN			     à	 		                          TOUJOURS
L'infinie suit les empreintes de nos bottes
Les murs crient, FEMMES DE FRANCE PRENDS TES ÉPÉES
 Mes cloques s'éclatent		           like buildings only half collapsed
SAVE YOUR COUNTRY	 occupy		           your mind	     SUR LES LIEUX
Avec les sculptures de boue des enfants endormis
Beneath the delicate icons of our cathedral glass sky.
    	    Alors qu'on marche, 		           le sang coule.
BUY WAR SAVINGS CERTIFICATES 				    	   DE LEUR CRIME
They say THE WAR WILL SAVE OUR LIVES
Ils dit LA GUERRE NOUS LIBÈRE
I say Look At Their Faces 
Les gens d'armes oublient comment pleurer.